2nd International Conference on Computational Creativity, 2011
Success!
(May 4) The conference was a great success. Happy Cinco de Mayo to all those in Mexico City who helped to make it so!
Best Student Paper
(May 4) The best student paper award, which was sponsored by the Cognitive Science Society, went to "Scuddle: Generating Movement Catalysts for Computer-Aided Choreography" by Kristin Carlson, Thecla Schiphorst and Philippe Pasquier
Proceedings Published Online
(Apr 25) The full, detailed schedule/agenda for ICCC-11 is now online.
Proceedings Published Online
(Apr 20) The Proceedings of the Second International Conference on Computational Creativity are now online.
Hotels and La Casa de la Primera Imprenta
(Apr 19) The conference venue, La Casa de la Primera Imprenta, is a short walk from either conferene hotel. Just walk between Mexico City's main public square and the cathedral; the Casa (located at Primo Verdad #10) is a few steps away along the side of the National Palace, on the next corner (the corner of Primo Verdad and Moneda). See the large version of this map for a better look at the street names in the area.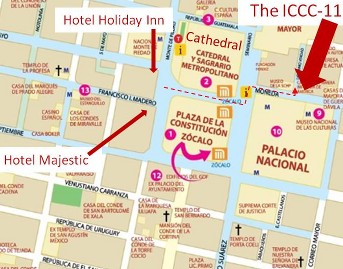 Banquet Menu
(Apr 12) The banquet will be a late lunch (the main meal in Mexico) on Friday and will conclude the conference:
Sopa de Tortilla (tortilla soup)
Quesadilla de Queso (cheese quesadilla)
Arroz a la Mexicana (rice Mexican style)
Pescado a la Veracruzana (Fish Veracruz style)
Gelatina de Cajeta (caramel dessert)
Café o té (coffe or tea)
Keynote Talk Abstract is Online
(Mar 21) Our keynote speaker, George E. Lewis, will speak on "Improvising With Creative Machines: Reflections on Human-Machine Interaction." Check the top of the site's Program page for an abstract of the talk and a short biography of Prof. Lewis.
Registration payable online
(Mar 21) You can now pay your registration fees online by credit card, debit card, or using your own PayPal account. Details are on the registration page.
Early registration extended
(Mar 16) Early registration extended until March 24th. Register online.
Registration is Open
(Feb 23) Registration is now open. Register for ICCC-11 online here at our site.
Call for Demos / Show & Tell
We are soliciting abstract proposals for a special Show & Tell session to be held as part of ICCC-11. The Show & Tell (S&T) session is an interactive, demonstration-based showcase of working systems that relate to the field of computational creativity and is one of the highlights of the conference.
Abstract submission will be done with EasyChair, just as for paper submissions. See the submissions page of this site  for full instructions on how to prepare and submit your one-page PDF. Submissions will be reviewed for appropriateness and feasibility by the Senior Program Committee.
Important Demo / Show & Tell Dates:
S&T submission deadline: February 28, 2011
Notification of decision: March 14, 2011
Discounted Hotel Rates for ICCC-11
(Jan 19) We have made arrangements with two hotels, the Best Western Hotel Majestic and the Holiday Inn Zocalo, which are providing reduced rates for ICCC-11 conference participants. Full details are on the venue page.
Best Student Paper Prize
(Jan 19) Thanks to the sponsorship of the Cognitive Science Society, there will be a prize (including a small monetary award) for the best student paper at ICCC-11. More information about this prize will be available here on the site before the conference.
Related Conference: ACM C&C
(Jan 19) Those planning to attend ICCC-11 will be interested in the Conference on Creativity and Cognition, which will be held from November 3rd through November 6th at Georgia Institute of Technology in Atlanta, Georgia, USA.
Keynote Speaker Announced
(Jan 7) George E. Lewis, experimental musician and creator of the Voyager system, will give the keynote address at ICCC-11. As discussed in Leonardo Music Journal, Voyager "employs a computer-driven, interactive 'virtual improvising orchestra' that analyzes an improvisor's performance in real time, generating both complex responses to the musician's playing and independent behavior arising from the program's own internal processes."
Paper Submission & Travel Information
(Oct 15) New information is now online about submitting papers (long papers and short papers, formatting instructions, a kit for authors with templates) and about travel, lodging, and related matters.
Site Online
(Aug 11) The call for papers for ICCC-11 has been circulated for a few weeks; today the site is in place with some additional information about the venue and the history of the conference.
ICCC-11 in Mexico City
Although it seems clear that creativity plays an important role in developing intelligent computational systems, it is less clear how to model, simulate, or evaluate creativity in such systems. In other words, it is often easier to recognize the presence and effect of creativity than to describe or prescribe it.
The purpose of this conference is to facilitate the exchange of ideas on the topic of computational creativity in a cross-disciplinary setting. It will bring together people from AI, Cognitive Science and related areas such as Psychology, Philosophy and the Arts who research questions related to the notion of creativity as it relates to computational systems. This focus on creativity in the context of computational systems has the potential for increasing innovation in existing fields of research as well as for defining new fields of study, including:
Artificially Creative Systems: development of computational systems that produce or simulate creativity. These systems may be inspired by human creativity or by the possibilities of artificial systems beyond human capabilities.
Computational Models of Human Creativity: construction of cognitive models of human creativity that can be the basis for computational creativity.
Computational Systems for Supporting Creativity: production of user interfaces, interaction design, decision support, and data modeling techniques that lead to the development of intelligent assistants that support the user in being more creative.